#Museums in Ahmedabad
Calico Museum of Textiles-
Established in 1948, the Calico Museum of Textiles is undoubtedly one of India's leading museums for textiles. Its superb collection of textiles is further enhanced by a fine collection of pichhwais and patachitras (painting on cloth).

Utensils Museum-
The museum is devoted to Indian utensils. Collected from all over India, the endeavour is to demonstrate the purity of form and shape in these objects of utility. Each object is beautifully conceived and created to prove that beauty also lay in the simple objects of everyday u


#Museums in Bhubaneshwar
Orissa State Museum-
The galleries cover archaeology, epigraphy, numismatics, armoury, mining and geology, paintings, anthropology and manuscripts.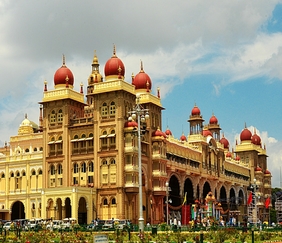 #Museums in Konark
Archaeological Museum-
The site museum was established at konark in 1968. On view are pieces of sculpture retrieved from the Sun Temple. The fragments, some small, some large, follow the architectural and artistic patterns of the temple and depict aspects of the religious, social and economic life of the people of Orissa during the 13th century.


#Museums in Bangalore
Karnataka Government Museum and Venkatappa Art Gallery-
Established in 1865, the museum houses sculptures from the Hoysala, Gandhara, etc periods. Also on view are antiquities from Mohenjodaro and terracotta from Mathura. The painting section includes miniature paintings from the Rajasthani and Pahari schools.


#Museums in Srirangapatna

Tipu Sultan Museum-
Tipu Sultan Museum lies within the portals of the Dariya Daulat (splendour of sea). The museum displays sketches of Tipu, his father Haider Ali, his sons, his forts, Srirangapatna from different angles. The murals on the outer walls depict scenes from Tipu's wars while the interior walls are ornately painted with abstract designs and floral motifs.
Delhi
,
Mumbai
,
Calcutta
,
Chennai
,
Jaipur
,
Lucknow
,
Varanasi
,
Sarnath
,
Shimla
,
Srinagar
,
Guwahati
,
Bhopal
,
Gwalior
,
Sanchi
,
Khajuraho
,
Patna
,
Gaya
,
Nalanda
,
Ahmedabad
,
Bhubaneshwar
,
Konark
,
Kohima
,
Bangalore
,
Srirangapatna
,
Hyderabad
,
Trivandrum
,
Pondicherry
,
Thanjavur
,
Madurai
,
Imphal
,
Shillong
,
Aizawl